Not many people know this, but Custom Bobbleheads do exist, and they are great to have or give for many reasons. Continue to read on to find out how to design your own bobbleheads, as well as other information about creating your own bobblehead dolls.
What Is A Custom Bobblehead Doll
A custom bobblehead figurine is exactly that, a doll that you can customized made to look like you or anyone else. One of the best things about creating custom bobbleheads is that there are many different categories that you can choose from, and this can give you an idea of what type of doll you will want to create.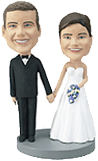 Why Get A Custom Made Bobblehead Doll
There are many reasons why you would want to get a bobblehead doll, or even a few bobbleheads. For example, if you have a wedding coming up and you want to give unique gifts to the people who will be in attendance, then you can get bobbleheads that look like them. They will get a laugh when they sit at the table they are assigned to and see a bobblehead that looks exactly like them.
They also make great gifts to give to someone on their birthday. For example, if you work for a company and it is your boss's birthday, then you can be creative and give them a bobble doll that looks like them. You can get creative and even add some accessories to it, such as a suit or workout clothes, or even a hat.
Maybe you know someone who is graduating from high school or college, because if you do, then you can use a photograph of that person to create a bobblehead that looks like them on their big day. You can also choose to have the doll created after they graduate, that way you will have an actual photo of them on graduation day.
The above examples are just a few of the many examples of how and why you would want to customize a bobble. There are many other reasons why, such as for certain holiday parties such as Christmas, Halloween and Easter to name just a few.
How It All Works
Getting a custom made bobblehead is very easy to do. All you need to do is choose the bobblehead doll's body type, or customize the body type, and then you will choose what the doll will look like, and you will be able to submit your photos. Once you have done these two things, then you can make sure that the doll is exactly how you want it to look, or you can make changes, and then just wait until the bobblehead doll is shipped out to you.
Author Bio:
Kyle has been collecting bobbleheads for many years now, and he has a lot of experience when it comes to owning Custom Bobbleheads. He has designed dozens of bobblehead dolls throughout the years.