Are you looking for the perfect gift for your man? With Christmas fast approaching it can be a bit of a struggle to shop for men because what they know and love is somewhat different from a woman's area of expertise…  The solution…. Jewellry!


A Los Angeles Jewelry startup called Wishgiving has created some beautiful yet masculine men's gifts to solve all your present giving conundrums. They have a superb range of men's jewellery ideas from pendants to bracelets. Don't panic though if you're thinking bling and sparkle! I know guys prefer the less austere, masculine look, and these pieces are a perfect fit for a man.
On Wishgiving.com they offer fantastic handmade pieces such as zen inspired beaded bracelets, each bracelet features carefully crafted wooden beads and naturally occurring gem stones such as jade, turquoise and aquamarine.
Not only does the jewellery look amazing on, the materials used to make them offer healing properties to the wearer.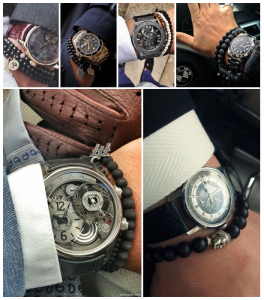 So which of our fabulous products would I recommend this season?
Zen necklace with Plum Agate – this carefully handcrafted piece is just what any man needs in his life. Agate has been praised for centuries for its power and strength giving properties, it will also help to alleviate stress, perfect for the modern day working man. The necklace has bands of beautiful colors through it and is accentuated with a delicately decorated silver clasp.
Groundedness series – Mala bracelet with rosewood and turquoise is from the groundedness series of mens jewellery. It has wonderful handcrafted beads of Rosewood from the USA. There is, in addition, a beautiful turquoise bead. Turquoise holds protective properties as well as attracting success and wellbeing to the wearer.
Pyrite Wrap bracelet and necklace – this has to be the ultimate gift for any man. Even the toughest man will feel that this delicate but ruggedly beautiful set is wearable. If your man could use a little mental stimulation this is the perfect men's jewellery piece for him. Pyrite has the ability to stimulate your mind and logical thinking.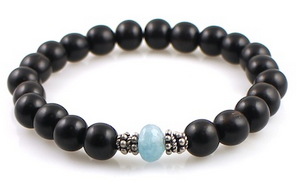 Ok, so the lesson here is to go with what you know… Jewellry and get the man in your life something he will treasure forever today.   Visit the men's jewellery page  of Wishgiving.