If you're one of the growing number of renters in the UK you may be wondering what you can do to improve your outdoor space. You may be constricted by your landlord's stipulations, or by the size of your garden. Or it may simply be that you don't want to put lots of effort into a garden you'll eventually leave behind. Whatever situation is, planters and pots could be the answer to your woes!
Even if you think you're a plant killer, or haven't ever tried to gardening, container gardening is a great place to start. A complete novice can create a wonderful container garden in very little time; all you need is a container, some potting soil and some seeds or plants.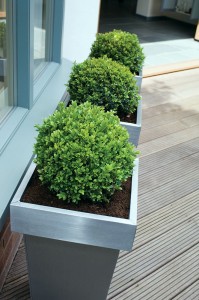 Containers can suit any style. You can go for a modern look, with a Cadix planter, which come in a range of modern and contemporary styles. Filled with some vibrant grasses or plants they are perfect for adding some greenery to a hard landscaped garden. They fit in perfectly with the urban scenery as they come in a range of materials and finishes. If you have a little more space you could create a more traditional look with a Norlog arbour, which is great for climbers, such as clematis or climbing geranium.
Container gardening is also a good option if you have a concrete yard, or if your only outdoor space is a doorstep. Container gardening is an extremely versatile way of planting and are the perfect home for colourful annuls and half-hardy perennials. Most shrubs, climbers, grasses and even some trees can be successful in planters. Spring is normally the best time to plant up your containers, for more detailed information the RHS has lots of tips.
Gardening in containers can suit any personality. With container gardening you can have great results being as relaxed or ambitious as you want to be. A couple of pansies in a pot may be enough to start with, or you might want to landscape an entire area with containers. All you need to be a successful container gardener is willingness to experiment, a tolerance for the unexpected and a love of playing in the dirt. If your container is big enough you can even add a water feature and have your own mini eco-system!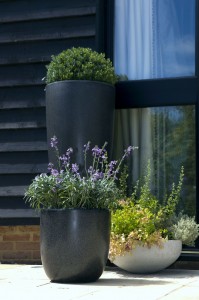 If you only have a balcony or window ledge and would like to grow your own veg a trough planter could be the ideal solution. Fill it full of 'come again' lettuce, nasturtiums, chillies, herbs and pot grown strawberries and be self-sufficient for the whole summer. The Royal Horticultural Society has some great tips on how to grow in pots for practical advice on growing come again lettuce CLICK HERE. Children love container gardening: My kids wouldn't look at peas until they grew them in container gardens and could eat them right off the vine. Carrots took on new meaning when the kids saw them growing on the deck and could eat them when they were tiny and sweet. Kids love the success that container gardens give them, and they take pride, at a very young age, in growing something their family can eat.
If you want some greenery but haven't caught the green-fingered bug the plastic topiary may be the answer! The Cadix Buxus Ball is UV protected and made from high quality material; artificial topiary is low maintenance and the perfect way to give your planters an instant makeover.